Family Recreation Day Away
---
Extended Families Australia is providing a Family Day Away Program for Vietnamese families caring for a child with a disability who reside in the north-western metro regions of Melbourne. The Day Away will be held on Wednesday 20/4/22 10am -4pm at YMCA Lady Northcote Recreation Camp Centre in the beautiful Rowsley Valley an hour's drive from Melbourne.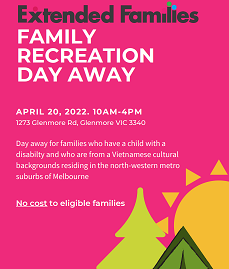 The event is free of cost to eligible families thanks to a grant provided to Extended Families' by the Support for Carers and Additional
Respite Program under the Department of Families, Fairness and Housing.
Eligible participants include:
- Families of Vietnamese cultural background caring for a child or children with a disability living in the north and western metro areas of Melbourne
- At least one parent/ guardian must be in attendance with the child with a disability and their siblings choosing to come along
- All children attending the event must be under 18 years of age
- Parents and participants (aged 12 and over) must be double vaccinated against COVID-19 or have a valid medical exemption
Families wishing to participate will need to fill out the online Expression of Interest Form listed below or via a link in the brochure.
Note that places for this event are limited to approximately 20 families. We will prioritize those who are in greatest need of respite support. The jot form link to the Expression of Interest forms in the brochures are available in both English and Vietnamese. Transport support will be provided to those who are unable to attend by their own means.
If you have any questions regarding the Family Day Away – please contact Julia Klieber julia@extendedfamilies.org.au or 0481 955 551 or one of the facilitators listed in the brochure (Vietnamese speaking staff available).
Family Recreation Day Away Brochure (Vietnamese)
Family Recreation Day Away Brochure (English)
Expression of Interest Form (Vietnamese)